Yes! In the pocket!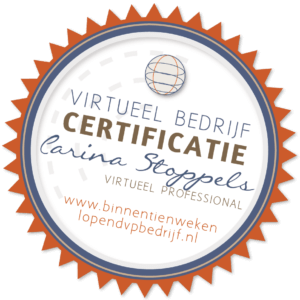 Op de 1e dag van de zomer, 21 juni, ontving ik mijn certificaat van de Academie voor Virtueel Professionals. Dat betekent dat ik nu aan de slag kan als gecertificeerd Virtueel Support Professional. Zo ontzettend blij mee!
Wat al langere tijd een grote wens van me was, is nu realiteit geworden: ik breid mijn diensten uit met een virtueel support-tak! Omdat ik denk dat er veel kansen liggen op het gebied van ondersteuning bij (online) ondernemen en online marketing.
Onder de naam Spot Virtueel Support ondersteun ik ambitieuze ondernemers. Ik richt mij met name op support bij online marketing, financiële administratie en het maken van een professionaliseringsslag in het bedrijf. Concreet neem ik de ondernemer operationele taken uit handen waar hij geen zin in, tijd voor of kennis van heeft. Op die manier krijgt de ondernemer tijd en ruimte om zich te focussen op wat écht belangrijk voor hem is en op waar hij naartoe wil groeien met zijn bedrijf.
Dank ook aan mijn trainers Petra en Joan en mijn mededeelnemers aan de opleiding.
Let the adventure as a certified Virtual Professional begin!
Hartelijke groet,
Carina Stoppels
P.S.: Heb je vragen naar aanleiding van dit artikel, stel ze gerust. Ik beantwoord ze graag. De website is nog in ontwikkeling. Tot die tijd ben ik bereikbaar via de contactgegevens van Spot Secretariaat.